1999 Illinois Anti-Tobacco Campaign
As part of the tobacco settlement signed last year by Illinois Attorney General Jim Ryan and other state attorneys general, major tobacco manufacturers agreed to remove all tobacco billboard and transit advertising by April 22. Until the leases expire, most of them in January 2000, states can use the billboards for tobacco prevention and pro-health messages.
"Joe Camel, the Marlboro Man and all the other characters who have been riding along Illinois highways for years, hooking children on tobacco, have hit the road for good -- and good riddance," Ryan said. "This is a great day for the children of Illinois."
The state of Illinois has 785 former tobacco billboards, many in the Chicago area, that it can use for anti-tobacco messages. Billboards with the state's "Butts Are Gross" and "It Looks Just As Stupid When You Do It" slogans began appearing April 23. The state is utilizing artwork developed by State of Health Products of Minneapolis, Minn. www.buttout.com, that was made available through the U.S. Centers for Disease Control and Prevention.
The Butt Out! artwork (shown below) will be displayed while an anti-tobacco billboard design contest, sponsored by Attorney General Ryan and in cooperation with the Illinois Department of Public Health and the Outdoor Advertising Association of Illinois, is conducted for kids in grades 4 through 6. Details on the contest are available at www.ag.state.il.us/tobacco.htm. The contest winners will be selected by mid-May and the chosen designs are to be posted later this summer.
Billboard #1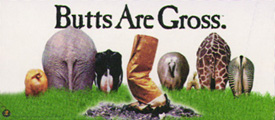 Billboard #2


Illinois Department of Public Health
535 West Jefferson Street
Springfield, Illinois 62761
Phone 217-782-4977
Fax 217-782-3987
TTY 800-547-0466
Questions or Comments
Copyright © 1999 State of Illinois