May 9, 2006
Gov. Blagojevich welcomes Liberian President Ellen Johnson-Sirleaf and announces a gift of 25,000 HIV tests for pregnant women in Liberia from Abbott
Gift is part of an expansion of Governor's BASUAH initiative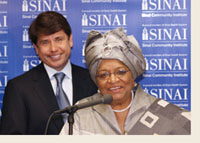 CHICAGO - Governor Rod R. Blagojevich today welcomed Republic of Liberia President Ellen Johnson-Sirleaf during her trip to Chicago , and presented her with a gift of medical supplies from Abbott to take back to her country.
President Johnson-Sirleaf comes to the United States at a time when her country is suffering the severe impact of the AIDS epidemic that is devastating many other African countries. Gov. Blagojevich recognized the need to prevent mother-to-child HIV transmission and reached out to Abbott, one of the world's leading healthcare companies, for assistance in helping pregnant women and their unborn children in Liberia. Abbott is making an initial donation of 25,000 rapid HIV tests for pregnant women in Liberia , and also has committed to providing as many additional free HIV tests as Liberia needs in the coming years to help prevent mother-to-child transmission of HIV.
"I want to thank Abbott for their generous donation of 25,000 rapid HIV tests that will help save children from being infected with HIV. Their gift will literally save thousands of lives. I'm so pleased that we were able to bring President Johnson-Sirleaf and Abbott together to make this happen," said Gov. Blagojevich.
The donated HIV tests are easy to use and provide results in 15 minutes – with no need for electricity or lab equipment. Once an expectant mother tests positive for HIV, she can receive free treatment from local programs to prevent the transmission of the disease to her child. Abbott's donation is part of the company's broader program to provide free rapid HIV tests to help prevent mother-to-child transmission in 69 countries, including all of Africa. To date Abbott has donated more than four million tests to local programs.
President Johnson-Sirleaf said she believes that education in schools and an active media campaign are critical to combat the spread of HIV in her nation. "Many young people in Liberia know about how HIV is spread, but continue to practice in risky behavior which continues to spread the disease."
The Governor and President Johnson-Sirleaf were joined by elected and appointed officials and community leaders, including Lieutenant Governor Pat Quinn, Illinois Senate President Emil Jones, Jr., and state Public Health Director Dr. Eric E. Whitaker for the announcement and a discussion of Governor Blagojevich's BASUAH initiative.
Recent reports estimate the average HIV/AIDS infection rate in Liberia is 12%, more than double the 5.9% infection rate reported in 2003. The spreading of HIV/AIDS is high among Liberia 's women and children, especially among the age group of 15 to 24 years. The rise in HIV infections is attributed to several factors, including the rapes of 40-percent of all women and girls during the country's 14-year civil war.
Education, awareness and testing are also components of Gov. Blagojevich's BASUAH initiative. Launched last fall, BASUAH targets the African American community to combat the high rate of HIV/AIDS cases reported within that community in Illinois. Although African Americans only comprise about 15-percent of the state's population, they represented more than half of the state's newly reported HIV/AIDS cases in 2004.
"Illinois now has rapid HIV/AIDS testing which is one of the components of our BASUAH initiative. Through BASUAH, we continue to fight this disease. I plan to send a delegation of health officials on a fact-finding trip to Liberia to provide technical assistance on HIV awareness and testing and to bring back detailed progress of work being done in Liberia," said Gov. Blagojevich. This trip will mark the 2 nd time the Governor has sent a delegation on a fact-finding trip to Africa. He sent a delegation to South Africa earlier this year.
Some of the components of Gov. Blagojevich's BASUAH initiative include:
Implementing statewide rapid HIV/AIDS testing
On September 14, 2005, the State filed emergency rules to implement HIV/AIDS rapid testing statewide. The State (through the Illinois Department of Public Health) adopted these rules on February 3, 2006.
Partnering with predominantly African American colleges and universities to provide on-campus rapid HIV/AIDS testing and to establish peer networks to encourage testing
HIV/AIDS testing is a critical component of any program to decrease the spread of HIV/AIDS. African American college students are at particular risk for risky behaviors for HIV/AIDS transmission. The State partners with these colleges and universities to provide testing and establish peer networks that will encourage testing. Working through organizations such as campus AIDS groups, fraternities and sororities, and African American student organizations, efforts are made to increase awareness and decrease rates of new infections.
Partnering with African American churches and their youth ministries to establish peer networks and encourage testing
Understanding that the African-American churches are, in most cases, the focal point of the community, the State is partnering with faith-based congregations to identify and train youth as BASUAH ambassadors. These individuals are trained by the Red Cross as peer educators to provide HIV prevention messages to other young adults, not only in their congregation, but also throughout the community. Young adults are encouraged to know and understand the threat of HIV to themselves and others, be able to identify and change risky behavior, and encourage others to know their status by being tested.
Perinatal HIV rapid testing and reporting past results
More than 5,300 labor/delivery and nursery nurses have been trained to provide rapid HIV testing and counseling. Training for the 60 non-birthing hospitals began in June 2006 and will continue through 2006. 100-percent of all Illinois birthing hospitals have now implemented rapid testing and treatment. In 2005, almost 97-percent, or 134,372, mother/newborns pairs participated in rapid HIV testing at Illinois birthing hospitals and their results have been reported. Among the 26 HIV positive women identified through rapid testing during labor and delivery (August 2004 – December 2005), four infants have been confirmed positive. Of those four infants, two were infected with HIV in-utero prior to labor and delivery.
Establishing the first ever African American faith based conference to address eliminating the spread of HIV/AIDS in the African American community
The State convened hundreds of leaders from the African American faith-based community to develop a strategic plan to address the HIV/AIDS pandemic in the African American community. The strategic plan will identify obstacles that the faith-based community faces in providing a network for delivery of HIV/AIDS prevention messages and formulate solutions. Congregations that have provided leadership in this area will display and discuss "best practice models."
Wellness on Wheels Van
Wellness on Wheels, a multi-disciplinary mobile unit brings a variety of health screenings, to include HIV testing, to an eight county underserved area of Illinois that lacks medical resources. This is an expansion of the highly successful Wellness on Wheels van currently serving the Champaign area bringing HIV and STD testing to residents of public housing complexes, shelters and the homeless.
The South African Twinning Partnership
The Illinois Department of Public Health in collaboration with the National Association of State and Territorial AIDS Directors, and South African Partner, Inc., has launched a sister-state project with Northern Cape Province in South Africa. Activities include direct one-on-one technical assistance with the AIDS directors. The partnership consists of a mutually beneficial knowledge exchange between Illinois and our South African partners on how to address the HIV/AIDS crisis. In January of this year, Governor Rod R. Blagojevich sent the HIV/AIDS Section Chief, Dr. Andre Rawls, to Kimberley , Northern Cape Province, South Africa as the first of the sister-state exchange between the Northern Cape Province and the State of Illinois. The National Alliance of State and Territorial AIDS Directors sponsored the ten-day trip, in conjunction with a Center for Disease Control and Prevention (CDC) grant extended to South African Partners. The second portion of the exchange took place last month in April when health department officials from the Northern Cape Province visited Illinois.
For more information on HIV/AIDS visit www.basuah.org or call the Illinois HIV/AIDS and STD hotline at 1-800-243-2437 during the following hours: M-F 9:00 a.m.-11:00 p.m. Weekends 11:00 a.m.-11:00 p.m.