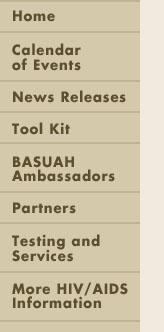 BASUAH is an acronym for Brothers And Sisters United Against HIV. A program of the Illinois Department of Public Health, BASUAH promotes HIV/AIDS awareness among communities of color through education, collaboration and community engagement.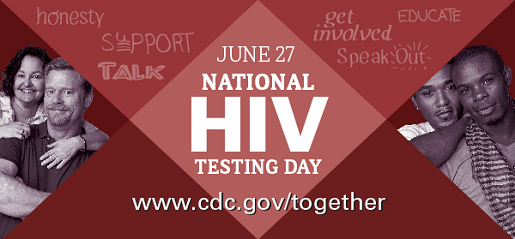 An estimated 1.2 million people in the United States are living with HIV, and that number grows by almost 50,000 every year. One in seven people who have HIV don't know it. That means they aren't getting the medicine they need to stay healthy and keep from passing HIV to their partners.
In Illinois an average of 1,800 people are diagnosed with HIV each year.
Get the facts.
Get tested and encourage others to get tested, too.
Find the nearest testing center in Illinois by using the Text2Survive widget, or text IL plus your ZIP code to 36363.

Use http://hivcareconnect.com to find testing services, housing providers, health centers and other service providers in Illinois.

Get involved. Participate in a National HIV Testing Day event.
Sign up to become a peer educator by taking a free online training.
Join community events near you or text EVENT to 36363.
---


Lieutenant Governor Evelyn nguinneti opened the conference on March 24, 2015, at the Hilton Lisle/Naperville, with the announcement that Governor Bruce Rauner had proclaimed April to be Minority Health Month. IDPH Director Nirav D. Shah, M.D., J.D. followed Lt. Governor Sanguinneti's remarks with his keynote address highlighting health gains in the 30 years since the release of then Secretary of Health and Human Services Margaret M. Heckler's report on the nation's health, which for the first time highlighted the significant health disparities between whites and racial minorities in the United States.

View Keynote Speakers | Workshop Presentations
---
Featured videos: /h3>
---
Read the
National HIV/AIDS Strategy
and talk about it with others

Use our Text2Survive Mobile program – it's easy, it's convenient

Text event to 36363 for free health events around the state

Text IL and your ZIP code to 36363 for a free HIV testing location near you.

Text game to 36363 to test your HIV knowledge.

For all services, text HELP IDPH for help, and STOP IDPH to cancel. Message abd Data rates may apply. For Terms & privacy policy: riproad.com/idph.
---
Click Image to Send An E-Card

"It's MAGIC" - winning entry for HIV Awareness contest sponsored by the Illinois Dept of Public Health.
---
BASUAH Education Island in
Second Life

In Second Life, our Ambassadors practice role playing and presentations skills and hold discussion forums with others online. They also have an opportunity to explore different personas and learn what it would be like to be in someone else's shoes. To get started in Second Life, visit this link http://basuahinsl.blogspot.com/

---
Quality of Life Endowment Fund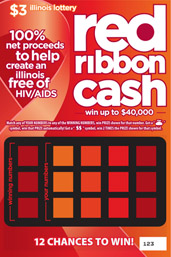 ---
Nationally, AIDS is the leading cause of death among African American women age 25-34 and the second leading cause of death of African American men age 35-44.
HIV/AIDS cases among African Americans are the highest among all racial/ethnic groups with a total of 1,406 cases reported in 2004 in Illinois, which consists of more than half the total reported cases in the state (2,662). Whites comprised 26 percent of the reported cases, Hispanics 15 percent and Asians 1.4 percent.
Of the total reported HIV cases among females in Illinois, 70 percent were African-American.
Among the total male population with HIV in Illinois, 47 percent were African American.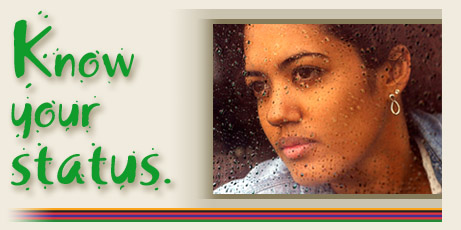 Know your Status

Get Tested

Get Your Friends Tested
Illinois Department of Public Health
535 West Jefferson Street
Springfield, Illinois 62761
Phone 217-782-4977
Fax 217-782-3987
TTY 800-547-0466
Questions or Comments