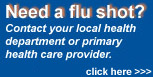 Need a flu shot?

The influenza vaccine is provided through local health departments and private health care providers in the state. You should first contact your health care provider regarding availability of the vaccine. If no vaccine is available, then you may contact the local health department that serves the area in which you reside. Click your county on the accompanying map for local health department contact information.

You may also consult the
CDC - National Immunization Program Flu Shot Clinic Locator.




Illinois Department of Public Health
535 West Jefferson Street
Springfield, Illinois 62761
Phone 217-782-4977
Fax 217-782-3987
TTY 800-547-0466
Questions or Comments