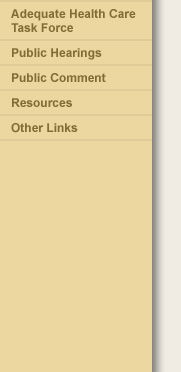 Adequate Health Care Task Force
Member Contact Information and Biography
Anthony L. Barbato, M.D.
(Appointed by the Speaker of the House)
2160 South First Avenue
Building 101, Room 1711
Maywood, IL 60153
Phone: (708)216-3215
Fax: (708)216-6227
Email:
abarbat@lumc.edu
Anthony L. Barbato, M.D., was named President and Chief Executive Officer (CEO) of Loyola University Health System and Loyola University Medical Center in July 1995, after serving six years as the medical center's chief administrative officer (1989-1995), and two years as vice president for health affairs (1987-1989). He was a senior associate dean of Loyola University's Stritch School of Medicine from 1979 to 1981, and later served as executive dean and dean between 1985 and 1991. Prior to his appointment as dean, Dr. Barbato was program director and assistant chairman for postgraduate training in the department of medicine. He is a tenured faculty member of the medical school and holds the rank of professor of medicine. Dr. Barbato earned his medical degree from the Stritch School of Medicine and his bachelor's degree from the University of Windsor, Ontario, Canada. He completed both his residency training in internal medicine and fellowship in endocrinology and metabolism at the University of Chicago Hospitals and Clinics. Dr. Barbato is a diplomat of both the American Board of Internal Medicine and the American Board of Endocrinology and Metabolism. He is a fellow of the American College of Physicians and he holds membership in numerous professional organizations, including the Illinois State Medical Society, the American Federation for Clinical Research and the American Association of Clinical Endocrinologists. He currently serves on the boards of Loyola University Health System and Medical Center, the Loyola University Physician Foundation, University Hospital Consortium, Catholic Healthcare Partners (Cincinnati) and St. Ignatius College Prep. He is past chairman of the board of the Association of Academic Health Centers. Dr. Barbato is the author of and contributor to numerous books, articles and abstracts on the subjects of health care, medical education and clinical endocrinology.