Community Presentations
---
Certified Pandemic Influenza Ambassadors will present information on pandemic influenza and community planning to their respective communities. In doing so, Ambassadors will bring together diverse individuals to engage in dialogue and receive basic information on influenza including, but not limited to: identifying the differences between seasonal and pandemic influenza, the risks associated with pandemic influenza, the importance of planning, and several key preparedness activities individuals, families and communities may begin in an effort to be prepared.
Select from the list below to see presentations for a particular month . All presentations are open to the public.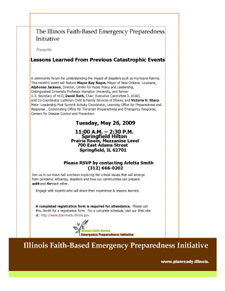 May 26, 2009
Lessons Learned From Previous Catastrophic Events
Luncheon Flyer
Registration Form
Prairie Room, Mezzanine Level
700 East Adams Street
Springfield
11 a.m. – 2:30 p.m.
Please RSVP by contacting Arletta Smith at 312-666-0202.
2008
May
April
March
February
January

2007
December
November
October
September
August
July
June
May
April
March
February
January
If you would like to have a Certified Pandemic Influenza Ambassador
make a presentation to your organization please call the Initiative Hotline
at 866-779-9832.