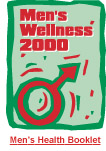 SPRINGFIELD, IL – The Illinois Department of Public Health will sponsor a health fair for men on Dec. 13 and 14 at the James R. Thompson Center in Chicago that will include free screening for prostate cancer and other important health concerns.
The two-day event, called Men's Wellness 2000, will be held from 10 a.m. to 2 p.m. each day in the lobby of the Thompson center.
"All men are encouraged to take an active role in learning about diseases, symptoms and treatment options that can directly affect their lives," said Dr. John R. Lumpkin, state public health director. "By taking charge of their health and recognizing the value of preventive health practices, such as screening for prostate and colorectal cancer, men can live longer, healthier and more productive lives."
Besides free screening for prostate cancer, screenings will be offered for colorectal cancer, hypertension, cholesterol, body fat composition, diabetes and depression.
Dr. Lumpkin especially encourages men over 50 years of age and African-American men over 40 years of age to take advantage of the prostate cancer screening.
Prostate cancer is the most frequently diagnosed cancer among men, accounting for more than 8,300 cases each year in Illinois and 179,000 in the United States. An estimated 1,800 Illinois men will die this year from prostate cancer; nationally, 37,000 men will die. African-American men have the highest prostate cancer incidence rates among all race-ethnic groups and are twice as likely as white men to die of the disease.
Cancer screenings are important tools that can identify cancers while they are still localized and are more easily cured. No single test, however, is completely accurate in detecting cancer.
"A screening is but one step men need to take to protect their health," Dr. Lumpkin said. "It is important for everyone to see a physician on a regular basis for a complete medical examination."