HALLOWEEN SAFETY TIPS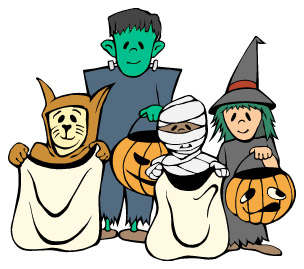 SPRINGFIELD, IL – Halloween can be more scary than the usual ghosts and goblins if trick-or-treaters don't follow a few simple tips to ensure their safety.
"For young children, Halloween can be one of the most dangerous nights," said Dr. John R. Lumpkin, state public health director. "While most parents are rightfully concerned about tampering, the biggest dangers children face are pedestrian injuries and falls."
According to the U.S. Centers for Disease Control and Prevention, four times as many children ages 5 to 14 are killed while walking on Halloween evening compared to any other night of the year, and falls are a leading cause of injuries among children on Halloween.
To prevent falls and pedestrian injuries, parents should make sure their children can walk, see and be seen in their costumes. The costume should be short enough to prevent tripping, be made of light-colored material and include reflective tape. Children should carry flashlights to help motorists see them.
"Many Halloween-related injuries can be avoided if parents closely supervise school-aged children and take a moment to talk with their children about safety before they go trick-or- treating," Dr. Lumpkin said.
To make sure your child's Halloween is safe, follow these safety tips:
TREATS
Parents should inspect all treats, and discard any unwrapped or loosely wrapped items.
Homemade items or baked goods should be discarded unless you personally know who gave them.
Parents of young children should also remove any choking hazards such as gum, peanuts, hard candies and small toys.
Inspect commercially wrapped treats for signs of tampering, such as an unusual appearance or discoloration, tiny pinholes or tears in wrappers. Throw away anything that looks suspicious.
COSTUMES
Costumes should be flame-retardant.
Use face paint instead of masks.
The child's name, address and telephone number should be written inside of clothing, where it is not visible.
Accessories should be flexible and made of soft material, not sharp or pointed.
PARENTS ALSO SHOULD...
Supervise children younger than 12.
Not send children out on any empty stomach. You don't want kids munching on treats before you have had a chance to inspect them.
Plan a trick-or-treating route before children leave and set a return time.
Give children change in case they need to make a phone call.
CHILDREN SHOULD...
Wait to eat candy until it has been inspected by parents.
Not ride bicycles, which could catch costumes in the chains and spokes.
Trick-or-treat in groups when adult supervision is not provided.
Use flashlights and look both ways before crossing the street.
Walk on sidewalks, not in the street. If there are no sidewalks, walk on the left side of the road facing traffic.
Not run between parked cars.
Only go to well-lit houses and remain outside while waiting for candy.
MOTORISTS SHOULD...
Slow down, especially in residential areas.
Watch for children darting out from parked cars.
When driving children around, use child safety seats or seatbelts. Have children get out of cars on the curb side, not facing traffic.
HOMEOWNERS SHOULD...
Turn on an outside light if welcoming trick-or-treaters.
Clear walkways and yards.
Keep dogs and other animals inside and away from the door.