GIANT AFRICAN SNAILS PROMPT PUBLIC HEALTH WARNING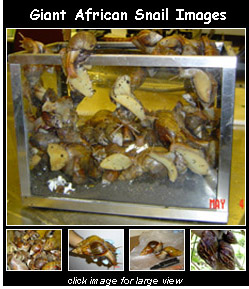 SPRINGFIELD, Ill. -- School superintendents and principals, pet store operators and the public are being warned of the potential health risks associated with exposure to giant African snails (Achatina fulica) that have been discovered in Illinois and at least three other states, Dr. Eric E. Whitaker, state public health director, today announced.
Dr. Whitaker said the snails, which are illegal in the United States, were given to students in a northern Illinois school as part of a science project and have since been confiscated by the U.S. Department of Agriculture (USDA). Other reports of giant African snails are under investigation.
"Giant African snails can carry a parasite that can cause illness in humans," Dr. Whitaker said. "I strongly encourage anyone aware of the existence of these snails to call their local health department."
The snails located in Illinois are considered "second generation," or born in the United States, and most likely did not carry a parasite that can be acquired from rats. There have been no reports of illness in Illinois.
Snails imported illegally into the country may have rat lungworm (Angiostrongylus cantonensis), a parasite that can cause meningitis in humans, from exposure to rat feces. Larvae are expelled in rat feces and are ingested by snails and slugs. Rats become infected by eating infected snails or slugs.
The parasite can be transmitted to humans when snail mucous comes into contact with human mucous membranes, such as those of the eyes, nose and mouth when touched by an unwashed hand or by ingesting improperly cooked snail meat. The parasite is not spread person-to-person.
Those infected with the parasite may become ill one to three weeks after having contact with a snail. While most infections are asymptomatic, some persons will develop symptoms that may progress to meningitis. Symptoms may include low-grade fever, vomiting, muscle aches, headache, stiff neck and back, and, in some cases, facial paralysis. Usually the infection resolves without treatment, but illness may last a few days to several months.
Iowa, Ohio and Wisconsin also have reported the presence of giant African snails in their states. In many cases, it appears students brought the snails into school classrooms. As the end of the school year nears, there is a concern that students may be given these snails to take home for the summer.
Anyone possessing a giant African snail or with information on the presence of these snails is asked to contact their local health department. The local health department will then report the presence of these snails to the Illinois Department of Public Health, which will contact the USDA to make arrangements to have them picked up.
Besides posing a risk to human health, these snails can do extensive damage to the environment if released outdoors. They are known to eat at least 500 different types of plants.
Possession of these snails is prohibited in the United States under the federal Plant Pest Act. Federal authorities suspect the snails have been smuggled into the United States and then sold in pet stores or traded by exotic animal dealers.
The Illinois Department of Agriculture is notifying pet store owners that the snails are illegal, pose a threat to human health and are capable of causing extensive damage to the environment. Store owners who possess these snails or know of any breeders are encouraged to contact their local health department.