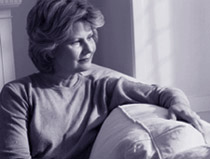 Reaching Illinois women is at the core of every activity conducted by the Illinois Department of Public Health's Office of Women's Health. Established in 1997, the mission of the office is to improve the health of women and girls throughout their lifespan. In addition to operating a toll-free women's Health-Line, 888-522-1282, the office offers a range of programs, publications, training resources and funding opportunities.
Education programs funded by the OWH are offered through local health departments, not-for-profit community agencies and schools. The programs include multi-week workshops and/or health promotion activities that address cardiovascular disease, osteoporosis, eating disorders, menopause and other health related issues. The goal is to help women and young girls change behaviors that can lead to healthier lifestyles.
Two other programs administered through the OWH include the Illinois Breast and Cervical Cancer Program (IBCCP) and the WISEWOMAN Program (IWP). The statewide IBCCP offers free breast and cervical cancer screenings to women between the ages of 35 and 64 who have low incomes and no health insurance. The IWP is offered in 13 counties in Illinois and is designed to help women enrolled in the IBCCP reduce their risk for heart disease and live a heart-healthy lifestyle.
535 W. Jefferson St., First Floor, Springfield, IL 62761-0001
217-524-6088, Fax 217-557-3326
Women's Health-Line: Toll-free: 888-522-1282
TTY: 800-547-0466
DPH.OWHLine@Illinois.gov