What is the Illinois State Health Improvement Plan?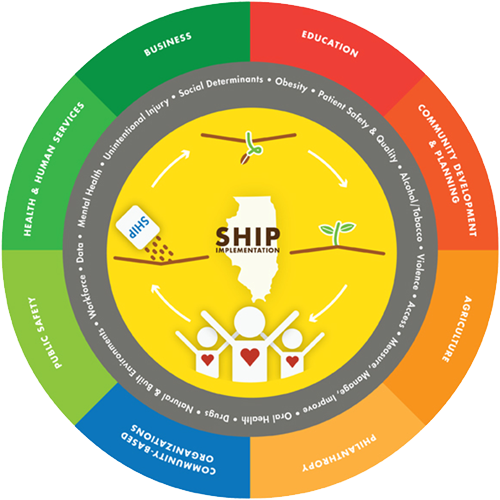 As mandated by statute, the state of Illinois regularly produces a State Health Improvement Plan (SHIP) that outlines priorities and strategies for health status and public health system improvement, with a focus on prevention. The SHIP also addresses reducing racial, ethnic, geographic, age and socioeconomic health disparities. The plan is produced by a team of public, private and voluntary sector stakeholders appointed by the director of the Illinois Department of Public Health. The current version of the SHIP is from 2010. In 2011, the Illinois governor appointed members to the SHIP Implementation Coordination Council (ICC), which released its preliminary action plan in January 2013. The ICC's plan, Aligning Illinois for Health Improvement and Equity, outlines a strategic approach to achieving the goals outlined in the SHIP through policy alignment, outreach, monitoring, and state agency coordination. In 2015 a new SHIP Planning Team was appointed to produce a new SHIP in 2016. The draft of the SHIP is available and open for public comment now. Visit dph.illinois.gov to learn about public hearings.
O.K., but what does that really mean?
In essence, the SHIP exists to meet two broad objectives:
To highlight specific targets for improvements within the healthcare and public health systems.
To highlight the importance of health factors as a consideration outside of healthcare and public health settings, such as in the activities of other state agencies, in schools, in the workplace, in public spaces, and virtually everywhere else.
SHIP implementation offers resources to help existing community stakeholders work better on their own and with each other. At the same time, SHIP implementation also brings new stakeholders to the table to grow and strengthen these efforts.
Whether you represent a health-related organization, a non-health related organization, a government agency, or just yourself and your family, you are a stakeholder. The state of Illinois makes the information and resources on this site available to you to help you get more involved in building a healthier Illinois.
Find tools, training, and more to help make your communities and organizations healthier on the Resources page.
Discover how projects related to the SHIP are making a difference across Illinois on the Impact page.
Find out how to Get Involved with improving health in Illinois.