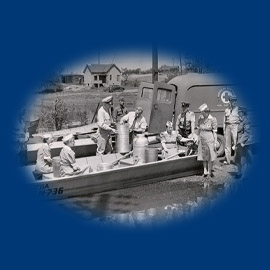 1930
Regularly scheduled radio broadcasts by the Department on public health issues are aired on WGN in Chicago.

1931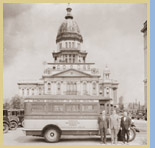 Legislation gives the Department supervisory authority over public water supplies and the construction and operation of public swimming pools.



1932
An encephalitis epidemic hits Paris, Ill.; 27 persons are stricken and nine die.

1933

An outbreak of amebic dysentery associated with the Chicago World's Fair results in 1,700 people ill and 98 deaths. Faulty plumbing at a Chicago hotel polluted the hotel's drinking water supply causing the illnesses.

Department research on the cause of an encephalitis outbreak that sickens 562 persons in the St. Louis area includes experimentation with monkeys. The monkeys, housed in a fourth floor corridor of the state Capitol, are expelled as a nuisance by the Secretary of State and the research project is abruptly terminated when no other suitable place to house the monkeys is found.

Obligatory use of silver nitrate solution or of an equally effective prophylaxis for newborn babies begins.

1934

As part of his effort to address the great economic depression, President Franklin D. Roosevelt's New Deal provides relief money that allows the Department to plan and supervise the sealing of dangerous abandoned coal mines, to undertake mosquito abatement, to replace unsanitary privies in areas with sewers and to construct public water supply and sewage disposal systems.

1937


The Great Flood causes nearly 1,000 square miles of lowlands along the Ohio River to be inundated and 35,000 residents are evacuated. The Department supervises maintenance of drinking water supplies, sewage disposal facilities are set up, suitable foods served and inoculations against typhoid fever and smallpox provided.

Premarital tests are mandated for venereal disease, including laboratory tests for gonorrhea and syphilis. The Department must test all specimens for free and the director is made the arbiter in cases where infection is found in a marriage candidate.

1939
Pregnant women are required to have a blood test for syphilis.

The Department establishes a division of cancer control and gives it the authority to set up and supervise local subsidized cancer diagnostic clinics.