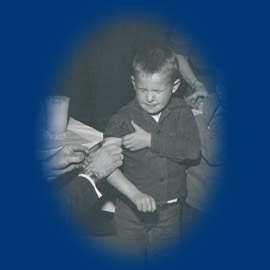 1953
All hospitals, except those operated or licensed by the state or federal governments, must obtain annual renewable licenses from the Department. Hospital construction, additions or alterations require Department approval.

1955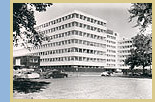 Department offices move from various locations around Springfield, including an attic in the state Capitol and a walk-up apartment over a saloon, to the just completed Stratton Office Building.


Just 17 days after the successful field trials of the Salk polio vaccine are announced, the legislature passes a $1 million emergency appropriation for the purchase and free distribution of the vaccine. The Department is in charge of rationing the first supplies of the vaccine.

1956
A statewide program begins to designate hospitals as poison control centers. Each hospital that desires to participate and report cases is designated and provided with pertinent references, including a list of 250,000 toxic or hazardous substances.


1957
The Department is assigned the task of registering radiation installations, identifying radiation hazards and appraising the risk of radiation from X-rays.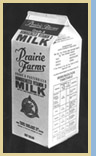 A law is enacted that only pasteurized milk can be offered for sale and must carry the Grade A label. The Department is given the responsibility for oversight of dairy farms, receiving stations and pasteurization plants.




1959
A state plumbing code prescribes minimum standards for fixtures, materials, design and installation methods.