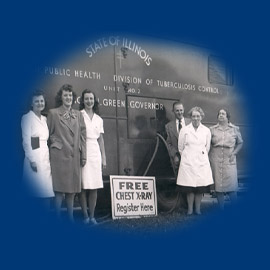 1940

The Department assumes the responsibility for licensing and regulating maternity hospitals.



1941
For the first time, state funds are designated to the Department for the fight against tuberculosis.

1942
An emergency maternity and infant care program, financed by the Department, is hastily implemented to assist the wives and babies of World War II servicemen.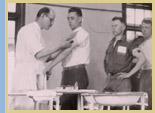 About 25 percent of the state's young men are rejected for military duty, causing Gov. Dwight H. Green to instruct the Department to establish programs aimed at correcting the disqualifying defects wherever possible.

Due to possible enemy action during World War II, an "emergency water corps" is organized by the Department to protect local water supplies in the event of disaster or sabotage.

1943
Legislation unanimously passes authorizing counties, by referendum or resolution of the county board, to establish and maintain county and multiple county health departments.

1945
A policy is adopted to provide state subsidies to local health departments that meet specific program standards and personnel qualifications.

The nursing home licensing law gives the Department the power to prescribe and enforce rules and regulations as to operations and minimum standards for location, construction, personnel, sanitation and diet at these facilities.

1946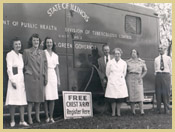 With much fanfare, Gov. Dwight H. Green becomes the first person to have a chest X-ray in one of two new Department mobile tuberculosis units.

1947
An appropriation of $6.7 million authorizes the Department to build and operate tuberculosis sanatoria. State sanitariums are eventually constructed in Mount Vernon (1951) and Chicago (1953).

After a survey by the Department to determine areas of the state with hospital needs, communities identified are eligible for federal and state grants equal to two-thirds of hospital construction costs. The first to start construction is Clay County Hospital. By 1962, 155 projects costing nearly $300 million are approved.

The Department starts fluoridation of public water supplies as a way to reduce dental caries.

The General Assembly authorizes the Department to establish and operate a first-aid station in the state Capitol.